Emergency lighting regulations and your testing obligations as a building owner
In the event of a crisis within a building, an emergency lighting system that's fit-for-purpose will help to ensure all occupants can safely escape.
This vital life-saving system needs to be maintained and tested on a regular basis; however, many emergency lighting systems are simply not up to regulation standards, and this can have severe financial and legal ramifications for business owners.
Do I need to install emergency lighting in my building?
All non-domestic buildings require emergency lighting, including common areas of a domestic dwelling with multiple occupancies. At a time when a raft of information is available at our fingertips, there are no excuses for property owners and facility managers to disregard their legal obligations in terms of providing and maintaining emergency and exit lighting.
But, where should you start? First off, you'll need to know what classification your building falls under in order to adhere to the standards set. Details of building classifications can be found in Technical Guidance Document B (Ireland) and BS5266 (UK).
The type of emergency lighting and number of fixtures should be selected on the basis of size, function and a risk assessment of the building. A responsible person should then engage with a qualified emergency light designer to plan a system that is appropriate for the building.
What are the different emergency lighting regulations
Safety standards in emergency lighting give guidance to the requirements of different categories of premises. These standards are in place to provide a set of emergency light testing measures to ensure all components of your system are in a suitable working condition.
I.S. 3217:2013 and A1:2017 is the standard that governs emergency lighting in Ireland and is issued by the National Standards Authority of Ireland. British standards BS EN 50172:2004 & BS5266-1:2016 detail the code of practice for emergency lighting in the UK and are issued by the British Standards Institution. Both standards impose a duty of care on building owners to install emergency lighting in case of failure of normal lighting.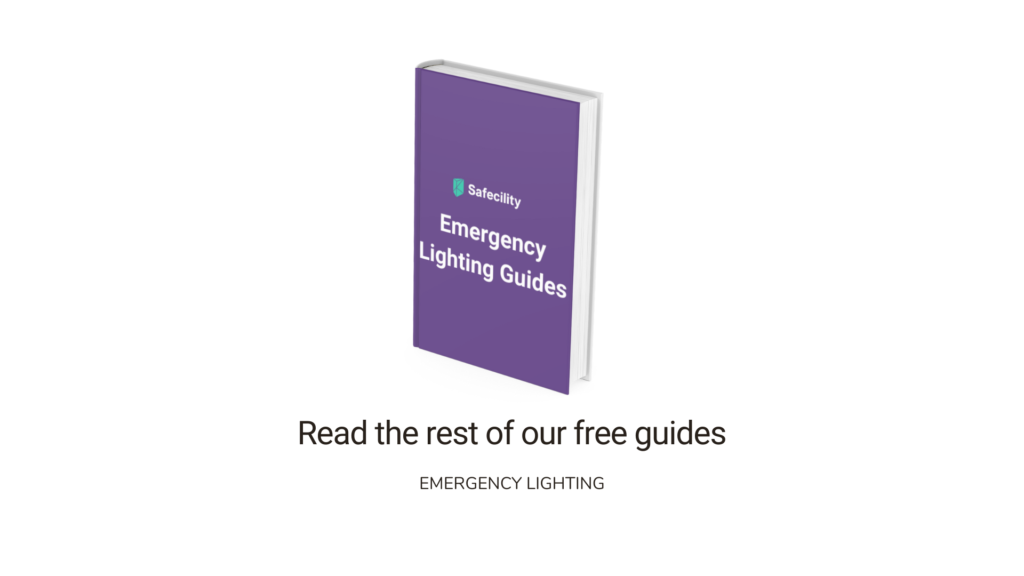 How often should emergency lighting be tested?
Scheduling is an important component of any reliable emergency lighting system.
The minimum testing requirements are as follows:
I.S. 3217:2013 standard (Ireland)
Daily
Any defects or deficiencies recorded in the emergency lighting log-book have been rectified. All indicators should show correct operation and no faults recorded.
Weekly
In addition to the daily test, ensure all non-illuminating lamps are replaced. A visual check should be carried out on at least 25% of the emergency lighting in the system so that 100% of the system is checked at least every four weeks.
Monthly
For three hour or one-hour systems, a 30-minute or 10-minute duration test needs to be carried out respectively.
Yearly
A full three-hour duration test completed. For self contained units, a second three-hour duration test must be completed within the 24 Hour period after the first to ensure battery has recharged fully.
B.S. EN 50172:204 / B.S. 5266-1:2016 standard (Britain)
Daily
Visual inspection of indicators on central power supply.
Monthly
Testing should be staggered and a short duration functional test completed to ensure that lights operate correctly.
Yearly
A full three-hour duration test completed.
When should testing take place?
Technically, emergency lighting testing can be undertaken at any time, but it's important to remember that the battery will no longer be at full charge after a test is completed. If an actual real-life failure of the mains lighting happened immediately after testing, the battery would not have had an opportunity to fully recharge.
Therefore, testing should be carried out at lower risk periods, such as outside working or opening hours of the building. In situations where the building is occupied 24 hours a day, testing can be staggered to minimise risk.
How can you ensure compliance with safety standards?
Regular servicing is essential and all tests are required to be documented to keep records as evidence of compliance. If failures are detected, these must be remedied as soon as possible and any faults shown during the test must be fully documented in the log-book.
Are there penalties for failure to comply?
Emergency lighting testing is a legal obligation and there are considerable penalties associated with failure to adequately test emergency lighting. It is the responsibility of the business owner to be aware of inspection and maintenance schedules and to ensure they are compliant.
Non-compliance can result in hefty repercussions and, more importantly, injury to occupants.
---
Never worry about emergency lighting compliance again.
By working with a reliable service provider like Safecility, you can keep the occupants of your building out of harm's way and track compliance digitally with our automated testing sensors and reporting platform.

Get in touch to find out how simple it is to switch to automation

---
Check out the rest of our guides: