A Digital Twin is a virtual representation of a real-life physical object or process. Digital Twins for asset managers, give unparalleled real-time insights into what's happening within their properties for dynamic building management and quick informed decision making.
When you hear the term 'digital twin' what comes to mind? It's not some sci-fi thriller robot replication of yourself, but it's not a million miles away either. It is a digital replica of something physical that exists in the real world, such as a jet engine or a factory line.
It may sound entirely futuristic, but the term was actually coined over 30 years ago. Recently however, we're seeing more and more of an uptake in adoption as technology advances. Better visualisation software and the continued rise of IoT devices has brought Digital Twins to the forefront of asset management in 2022. Today we'll be looking at their application in the world of housing portfolios and compliance testing.
What is a Digital Twin?
So what are they, and how do they work? Well, as previously mentioned, they're a digital replica of something that exists in the physical world. But they're so much more than just a blueprint. They are a living, breathing schematic embodied with analytics and performance intelligence. Essentially, Digital Twins are immersive data management platforms for your properties that incorporate three key forms of data.
What makes up a Digital Twin?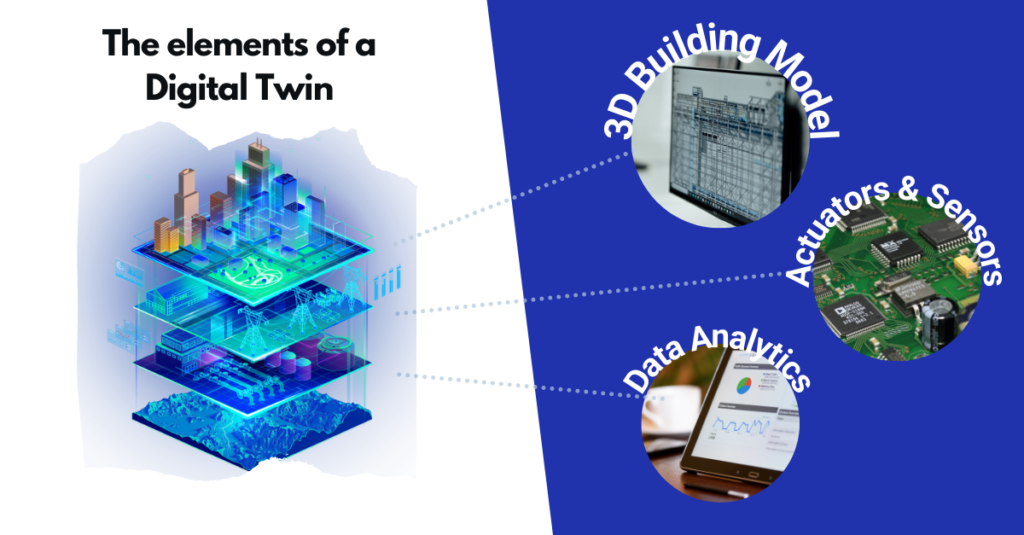 3D Modelling. First up you've got Building Information Modelling (BIM). This is a 3D modelling tool with geospatial tagging and databases which store building information. BIM is often used in the design and construction phases, but when combined with Digital Twin technology it provides data storage.

IoT Sensors & Actuators. Secondly, there's Operational Technology (OT) consisting of all the data obtained from linked equipment in the building(s), such as IoT devices and sensors.

IT and Data Analytics. And lastly, there's Information Technology (IT) which refers to the computing software and applications used to manage the buildings. These would include any data analytics, computerized maintenance management systems, or tenant experience apps.
Put that all together and you've got a constantly evolving real-time replica of a building ecosystem. The twin collects, monitors and analyses up-to-the-minute building performance data from physical information to human elements of the building for constant maintenance and performance optimisation. What's more, they provide the user with the ability to walk through the building virtually from the comfort of their desk on any computer or smart device.
Your Buildings and Digital Twins
So why do you need a Digital Twin? In a recent Gartner survey, while only 13 per cent of respondents claimed to already use digital twins, 62 per cent were either in the process of establishing the technology or planned to do so in the next year. It's as good a time as any to get in ahead of the trend and start reaping the benefits before the competition. If the lockdown taught us anything it's that those who fail to adapt, fail to evolve. The advent of Digital Twin technology is no different.
The Golden Thread
In the wake of the Grenfell tower disaster, the Hackitt Report called for a 'Golden Thread' of information for all complex and high-risk building projects so that their original design intent is preserved and changes can be managed through a formal review process'.
Digital Twins enable this through an all-encompassing and constantly up-to-date log of the building systems, processes, and any changes or updates undertaken, or to be carried out. This not only ensures compliance testing accuracy and speed, but it also means accountability.
Benefits of Digital twins
So what are the benefits for you, the landlord? Well, first we must mention that at this moment in time, Digital Twins are mainly designed for multiple buildings or large buildings. Having a Digital Twin for a single building would be overkill.
The obvious area of opportunity would be something we work very hard on here at Safecility. That is breaking the mould of traditional and outdated methods of safety compliance. Digital Twins can work in tandem with IoT and Sensor Technology to see if their alarms, lighting, boilers and fire extinguishers are compliant. This makes it simple to optimize compliance testing, to be easier, cheaper, quicker and more reliable.
In the near future we can expect to see advances in real-time fire safety as digital twins become more widely adopted. If an alarm is triggered and the temperature has dramatically increased in a specific area of a building, the digital twin can contact the fire brigade, and not only that, it can send them directly to the area that needs addressing when they arrive to save time and potentially lives.
Using Digital Twins to make life easier
The technology offers mind-blowing potential possibilities. A construction or maintenance worker could use a tablet, phone or even helmet with a heads-up display (HUD) that presents a digital overlay of the entire building, both cosmetic and structural features, all of which can be monitored using sensors. The worker can use this overlay to see and pinpoint exactly where the issue is, even if they've never been on site, or if the issue is through thick walls on the other side of the building.
Another big advantage would be predictive maintenance. Operational activities can be monitored and assessed in real-time, and the twin can even preempt future events based on historical data.
As noted in the Deloitte Digital Twinning in Real Estate report, predictive maintenance and self-maintaining buildings are going to become more and more common. 'The digital twin can predict when something will fail, book a contractor, guide them to the asset, provide specifications and historical information, and then invoice them once the job is complete'. Here we see again the potential for IoT and Digital Twins to combine for faster, cheaper, more accurate compliance testing and monitoring, and fulfilment of the criteria required for the Golden Thread.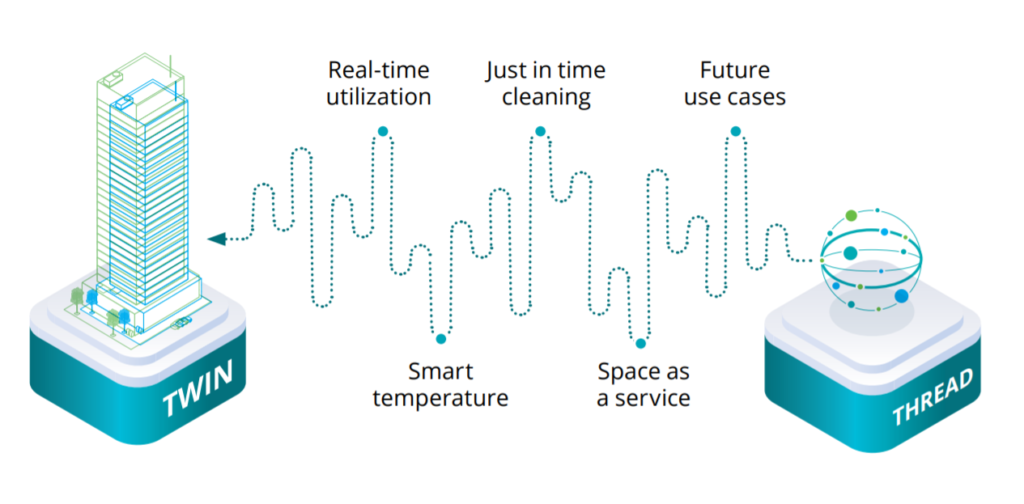 What else, you say? How about intelligent monitoring of energy use and occupancy. The Digital Twin can survey and analyse energy use across the building in relation to occupancy, and offer real-time insights into where the building is using the most energy. With this information, it becomes easier to visualise and plan how to use energy in the most efficient manner possible.
Not only that but the twin can automate these processes. For example, a twin with IoT sensors could identify when an area of the building isn't at full occupancy and adjust energy distribution to match. Simple but clever things like matching light or heating levels of a section to the level of occupancy it is at can make a world of difference to cost and energy efficiency over time.
Another relevant example is to think of offices during Covid times. Digital Twins and IoT Sensors were used to monitor physical occupancy, air quality and ventilation. On top of this, they could keep tabs on 'hot desks', to ensure that large building spaces were at safe occupancy rates, ensuring social distancing and keeping Covid guidelines at the forefront with minimum fuss.
All of this sounding like a lot of information? Well, at least it's in one place! What we mean by that is no more pesky silos. Information silos occur whenever one data system is incompatible or not integrated with other data systems. It's information that's inaccessible and can't be correlated with ease with another subset of data. Removing these silos helps you get the right information at the right time, all in one place, so you can make the best decisions.
So there you have it, our lowdown on Digital Twins – the game-changing potential they have, their ability to team up with IoT, and why you should get in on the act and start reaping the rewards before your competition!
If you would like to talk to us about integrating our IoT compliance solutions into a digital twin, get in touch today www.safecility.com/contact.