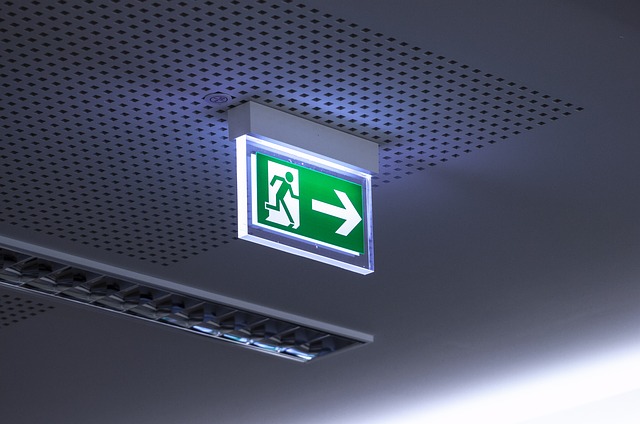 Emergency Lighting compliance
Emergency Lighting compliance is an area of building management that takes up huge amounts of time and resources. In pretty much all situations it's a manual process where technicians travel from building to building each and every time testing and inspecting the lights, recording the results and fixing any failures.
Remember, emergency lighting testing and inspection should be carried out on every luminaire at a minimum monthly.
If you could completely automate this process, from testing all the way to record keeping, just think about all the savings you would make.
Time Saving: No more unnecessary journeys each month to test lights, it's all done automatically for you.
Carbon saving: you'll only need to visit lights that have failed testing, this cuts down approximately 90% of your carbon emitting journeys.
Stress saving: Knowing the exact compliance status of all the Emergency Lighting under your remit, understanding what is causing a light to fail testing and seeing your compliance is plain english means organised, stress free targeted repair management
The Safecility Wireless Emergency Lighting Controller automates statutory Emergency Lighting testing and reports the result directly to you.
Here's how it works
The Sensor
The sensor is a small add-on that plugs directly into the emergency light. It's compatible with any DALI emergency light and is installed in under 10 minutes. If you have existing lighting that is not DALI enabled, we can provide you with a retrofit DALI conversion kit to make the light compatible.
What's the purpose of the sensor?
The sensor acts as a bridge between the DALI self test light and you. The sensor automatically triggers statutory function and duration tests on the light. It then takes the result and sends it to you via the cloud.
Without leaving your desk you can view the results on the Safecility platform (or via an API if you prefer).
If testing passes, you'll see a green result.
If testing fails, you'll instead see a red result.
When the sensor detects a failure or fault it identifies the exact cause. So before you attend the site to carry out repairs, you'll know if the failure was caused by the battery, bulb or something else.
How it operates
There are two different models of our sensor available. One that uses NB IoT to communicate, and another that uses LoRaWAN. If you're unfamiliar with these methods of communication and would like to find out more you can check out our simple guide here.
In short, NB IoT and LoRaWAN are wireless communication protocols. Just like Wifi in your home or bluetooth on your phone, they are methods of sending and receiving data. But unlike WiFi and Bluetooth they work over extremely long ranges (kilometres rather than metres) and need very little power to operate.
The Safecility sensor acts as a mini technician, it triggers tests and monitors the light to see if it passes or fails testing. It then uses either NB IoT or LoRaWAN to send this information to the cloud. The Safecility software formulates this data into a testing report and compliance audit trail.
The sensor essentially bypasses manual testing and record keeping so the only time you need to visit the lights is if there's a problem.
-Click here for sensor specifications-
What are the benefits
Automating your emergency lighting testing using the Safecility wireless sensor has a host of benefits.
Benefit 1: The sensor does it all
Once installed the sensor takes complete responsibility for testing and record keeping. You no longer have to worry about paperwork, non-compliance or tedious testing and inspection.
Benefit 2: It's easy to install
There's no additional wiring needed and the sensor is compatible with all brands of DALI lighting. Getting up and running couldn't be simpler.
Benefit 3: Your Compliance is improved
Despite best intentions, human error is always an issue with manual processes. By moving to automation, compliance and record keeping is improved leading to safer buildings and safer occupants.
Benefit 4: You get analytics
Knowledge is power. Know exactly when, where and why your emergency lighting is non-compliant.
Benefit 5: Savings
Time savings, cost savings, carbon savings…the list goes on.
If you're considering moving to automated emergency lighting testing and want to chat to us click here.
Or if you'd like a short no obligation 30 minute demo via zoom click here.