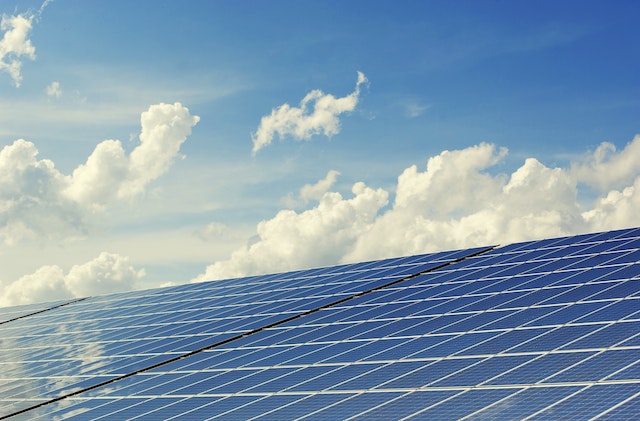 Businesses that rely on the grid for their electricity are suffering during the ever worsening energy-crisis, with no end in sight. Is solar power the answer?
Prior to 2022 prices remained steady for several years allowing businesses to predict their billing with relative confidence and assign a budget to meet their energy costs.
However, in the past 6 months things couldn't be more different. Energy price increases have skyrocketed at a frustratingly rapid pace. Businesses that rely on the grid to keep the lights on are facing the shock arrival of astronomical bills, cash flow implications and of course business uncertainty.
It sounds simple, but businesses can take steps to reduce their dependence on the grid and avoid the stress and instability of fluctuating energy prices. Solar panels are one of the most straightforward alternatives to the grid available to any business with suitable roof or ground space.
What are solar panels?

From the SEAI website:

Solar panels that produce electricity are known as solar photovoltaic (PV) modules. These solar panels generate electricity when exposed to light. Solar PV is the rooftop solar you see on homes and businesses.

Solar panels can be used with, or without batteries. Back up batteries connected to your solar panels collect excess electricity that's produced and store it until you need it.
If you have a solar panel without a battery you may need to take energy from the grid as backup during times of lower solar production e.g. at night time. However, if you have your own battery storage, you likely won't take as much energy from the grid. The battery contains a store of your own energy you can pull from as a backup
Solar power for businesses
You may be asking yourself if Solar panels are the right choice for your business in 2022. The short answer is, yes! And here are the reasons why.
Solar saves you money
The advantages of harnessing solar power are obvious during an energy crisis. Your bills will be reduced and energy price increases will have less impact on your bottom line.
Solar panels do not rely on heat to generate electricity, instead they use UV light that is emitted by the sun. Even during an overcast Irish winter, solar panels are effective. This means January through to December you'll have on-site electricity production to power your business operations.
In a bid to become more sustainable, Wicklow Wolf brewery covered their 1,580sq m roof in solar panels. At the time this article was written they were saving 60% on their electricity costs thanks to solar power.
Solar is sustainable in the long term
Aside from cost solar panels have additional social benefits for businesses.
During operation solar panels do not create a negative impact on the environment. They release no greenhouse gasses or air pollution and by harnessing solar we reduce our reliance on fossil fuels.
As the world seeks cleaner sources of energy, using globally available solar energy that does not deplete is a long term sustainable approach that makes sense.
Solar is accessible
The solar landscape has changed in recent years. Solar panels are now cheaper, easier to install and more accessible to small and medium sized enterprises.
The Sustainable Energy Authority of Ireland wants to encourage businesses to move towards sustainable energy sources. They've made grants available to all sizes of enterprises planning energy investment projects to strengthen their sustainability efforts and remove their reliance on the grid.
You can find a comprehensive list of commercial grants here on the Solar Evolution website.
Payback periods for solar panels are becoming shorter now that solar panels have become cheaper and energy prices are soaring.
Lifetime of solar panels without a battery is 35 years.

Lifetime of solar + battery is 12/15 years, the battery will need to be changed but the solar panel still lasts 35 years.

Payback period depends on current electricity costs, at the moment payback is approximately 4 years.
How to get started with Solar
It's clear that solar panels have a lot to offer to businesses struggling with energy costs that want to reduce their reliance on the grid and step up their sustainability efforts.
Are you ready to make the switch? Here are some Irish companies that can help:
Start Solar
Block 1,
Blanchardstown Corporate Park,
Ballycoolin Road,
Dublin D15 AKK1
+353 (1) 267 8004
Evolve Power Solutions
County Kildare, Ireland
+353 86 810 0284
Urban Volt
Appian House, 9 Appian Way,
Dublin 6, Ireland, D06 EA31
+353 1 699 3340
Wireless Energy Monitoring For Solar PV
At Safecility we supply wireless IoT energy monitoring systems so you can track your solar power generation in real-time. Our monitors work with any brand of solar panel and pull all information into a single easy to use software portal.
If you're interested in minute-by-minute energy monitoring get in touch here and we'll get back to you as soon as possible.