Benchmark your emergency lighting testing costs against the average.
Here at Safecility we're all about simplicity. When brainstorming ideas or in the process of product development, the question we always ask ourselves is how can we make things simpler?
Usually the answer is something obvious.
Emergency Lighting is something we've seen thousands of times, everywhere we go, but probably never given a second thought to.
Emergency Lighting testing is a task social landlords have to contend with every month on repeat in all of their properties.
It's an unavoidable burden because emergency lighting needs to be tested and inspected to remain within the law.
So in our quest for simplicity, we created a retrofit device that automates emergency lighting testing and record keeping.
Emergency lighting testing for social landlords
When we first started as a company we discovered that a simple and easy to install automation solution for emergency lighting testing had been overlooked by the market.
Solutions either used proprietary technology or needed extensive rewiring to work. The cost and hassle involved in automating was prohibitive for many, forcing them to stick with the old ways of manual testing.
Wireless solutions were available on the market but they were difficult to commission, used hit and miss wireless communication protocols, and usually meant an entirely new roll out of lighting fixtures for the system to work.
In short, all of the solutions available were too complicated.
This pursuit of simplicity led us to develop our flagship product, our emergency lighting control sensor. It's wireless, retrofit and works with any brand of emergency light. You can read all about it here
During initial market research before development we spoke to many types of landlords and building managers. We interviewed them and dug down to try and find out their emergency lighting annoyances. We wanted to get a deep understanding of their pain points so we could find out what would trigger them to consider automation.
What we found was both interesting and surprising.
Top three factors driving adoption of emergency lighting automation
Emergency lighting testing is seriously labour intensive

Our clients have multiple buildings, or, a few buildings with a large footprint and they're struggling to keep on top of monthly and yearly emergency lighting testing and record keeping.

Emergency lighting testing = huge amounts of carbon emitting journeys.

Our clients realise that manual testing and inspection of their emergency lighting is a carbon heavy process that they would like to improve on.

Human error & compliance concerns

Despite best efforts, manual testing lacks transparency and human error can be an issue. Our clients want to use technology to make their compliance testing more transparent and improve safety outcomes in their buildings.
You may be surprised – like we were – that cost is usually a secondary consideration. That's not to say it's not important, just that safety, compliance and environmental concerns are more of a priority for our customers.
Cost saving is only a piece of the pie, but a piece of the pie nonetheless. When determining a business case for our customers we have to ask what we once thought would be the simplest question of all.
"What are you currently spending on emergency lighting testing?"
Simple right?
Wrong.
This question is one of the most difficult for our customers to answer.
This can be because their emergency lighting testing is tangled up with other types of inspections like alarm and fire door testing. Or some emergency lighting testing is outsourced to contractors, while some is completed in house, so the exact cost details are fuzzy.
This brings us to our second question:
"How many emergency lights do you currently have?"
The most common answer we've received to both of these questions is "we don't know, we'll have to sift through the paperwork and find out".
If you're considering automating your emergency lighting, or have just realised that you don't know the nitty gritty details about your existing lights, processes or costs, we've compiled all the information and statistics we've learned from our customers into this article so you can benchmark your situation against the average.
How much does emergency lighting testing cost?
When we talk about average testing cost for emergency lighting testing we're talking about manual testing. All of the clients surveyed for this report use either in house technicians or external contractors to manually inspect and/or test their emergency lighting.
This involves traveling to each light every month to either test the emergency lighting, or in the case of self-test lighting, determine if the LED indicator on the light is showing a pass (green) or fail (red).
The results of these tests are then recorded in a logbook, either physical or digital.
If any of the lights fail test parameters, (examples of failures could be a broken bulb or a battery that cannot last for the required illumination duration) then repairs must be made to the light as soon as possible to remain within compliance. Repair details must also be recorded in the logbook.
While a suitably trained and competent person can carry out emergency lighting testing any repairs on failing lights must be completed by a qualified electrician.
For emergency lighting testing our customers are paying on average £115 per emergency light per year.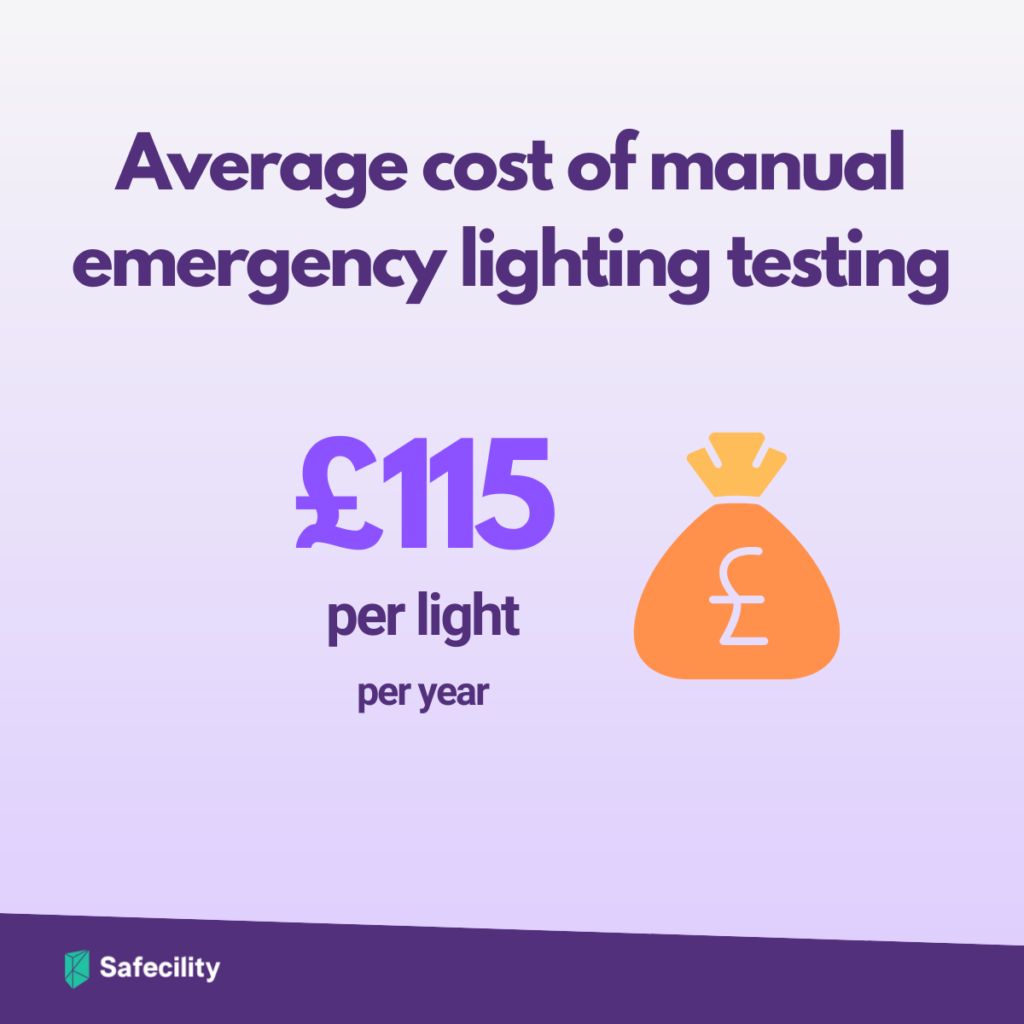 How do housing associations test their emergency lighting?
Housing associations and local authorities mix it up when it comes to testing their emergency lighting. Some use in-house staff to complete testing, while others outsource.
Interestingly 45% of social landlords we spoke with use both options for the emergency lighting testing. The most frequent scenario is internal staff complete monthly emergency lighting testing while external contractors carry out the yearly 3 hour duration test.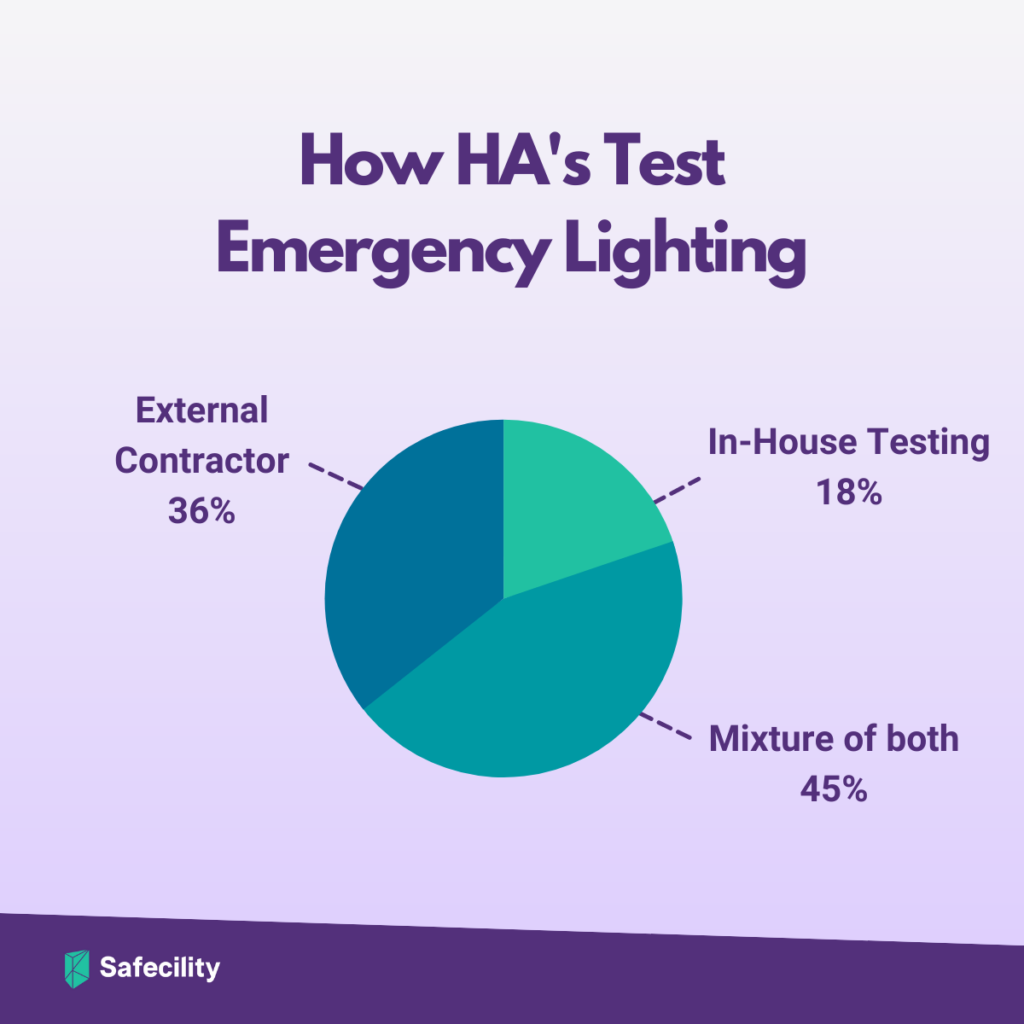 How many emergency lights do housing associations have?
The number of emergency lights that Housing Associations have varies a huge amount depending on the breakdown of the building stock between high rise blocks, low rise blocks, and single homes.
More single residential dwellings and fewer high density blocks
As a rule of thumb, we've found in housing associations with a high stock of low density single residential dwellings or low rise blocks, the number of emergency lights correlates to a figure of around 10-20% of housing stock.
Put simply, if a HA has 5000 low density housing units, they're responsible for testing and maintaining approximately 500-1000 emergency lights.
More high density blocks and fewer single residential dwellings
For housing associations with a higher percentage of high rise and low rise blocks, and a lower percentage of single residential dwellings, the number of emergency lighting under their control is more likely to be 30-50% of overall housing stock.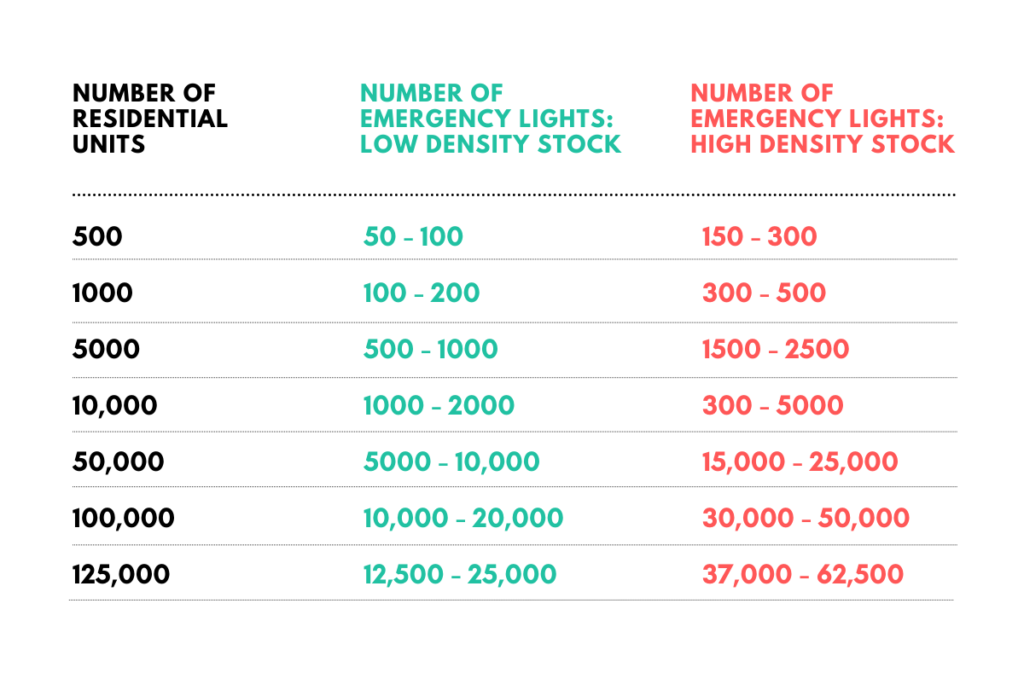 Average cost saving when switching to automation
For Housing Associations wanting to switch from manual testing to automated testing using Safecility®, the average yearly cost saving is 82.5%.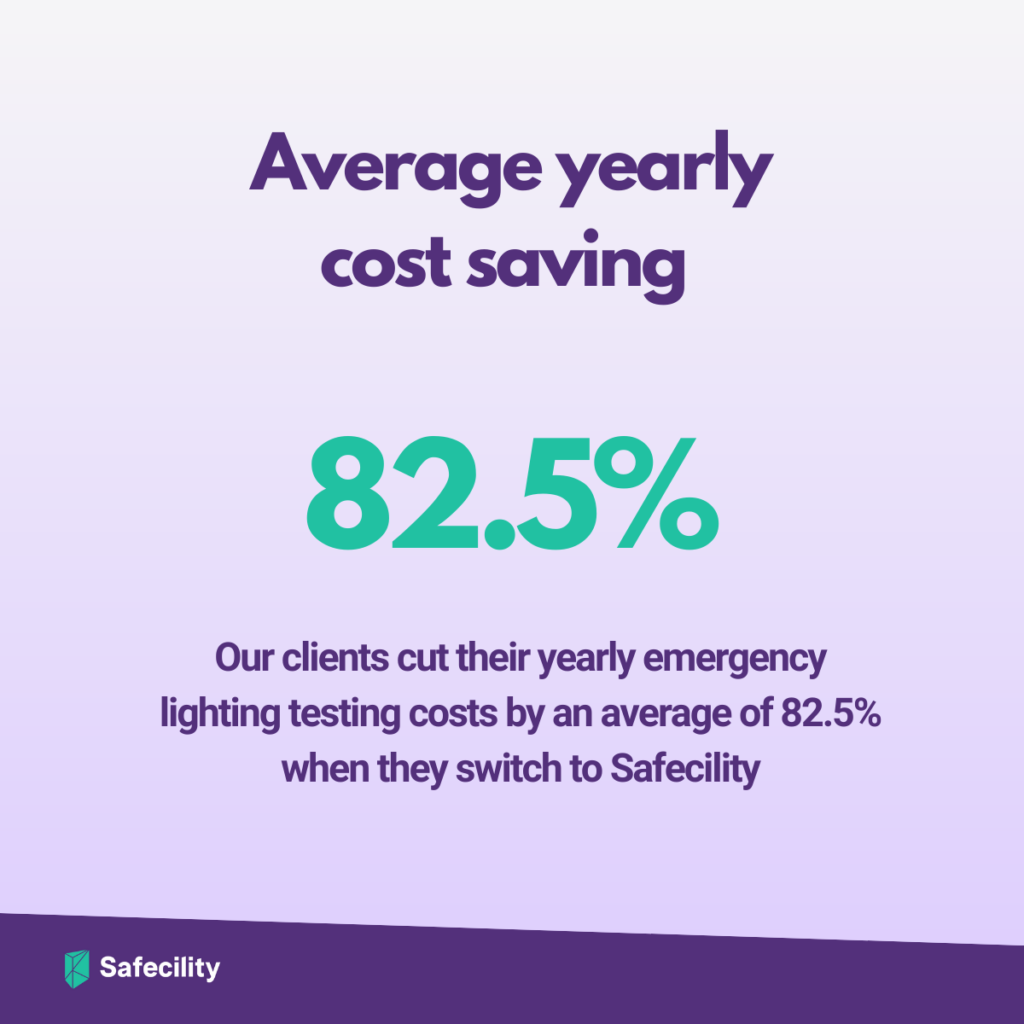 The sensor completely bypasses the need for physical testing of the lights while the software platform automatically generates reports so record keeping and data entry are eliminated. Testing is executed to a perfect schedule by the software, so it's a complete end-to-end solution. You only need to intervene on the rare occasion when a light fails and needs to be repaired.
There are other benefits to automation that are not as easy to quantify. Improved compliance and reporting give comfort and peace of mind that nothing has been missed or has slipped through the cracks. The Golden thread is also supported with trustworthy, time stamped digital records showing ongoing compliance with fire safety obligations.
How much carbon is saved?
By automating emergency lighting testing, monthly journeys to lights are eliminated. Electricians only need to be deployed to fix a lighting failure. The Safecility® software gives exact failure details so the correct parts can be ordered before attending site. This minimises unnecessary journeys and improves first time fix rates.
Carbon emitted when travelling to test and inspect emergency lighting varies widely depending on the number of lights and their geographical spread. It's logical to expect that social landlords in rural areas will expend more carbon travelling between their properties than those in a smaller geographical area.
High density housing correlates to a higher density of emergency lighting. This type of housing is more commonly seen in urban areas. But we must consider that despite the fact there's a cluster of emergency lighting in the footprint of a single building, technicians may have to make multiple visits over multiple days to test and inspect them all.
As mentioned, by switching to automation electricians only need to visit emergency lighting to make repairs. When everything is working properly there's no need to attend to the lights at all. This cuts down journeys to site by approximately 90%.
The impact this will have on your carbon emissions will vary depending on how many journeys you were making before automating testing. If you would like to quantify exactly how much carbon you're saving we can recommend SHIFT Environment as a trusted partner who can carry out a comprehensive deep dive into your carbon emissions.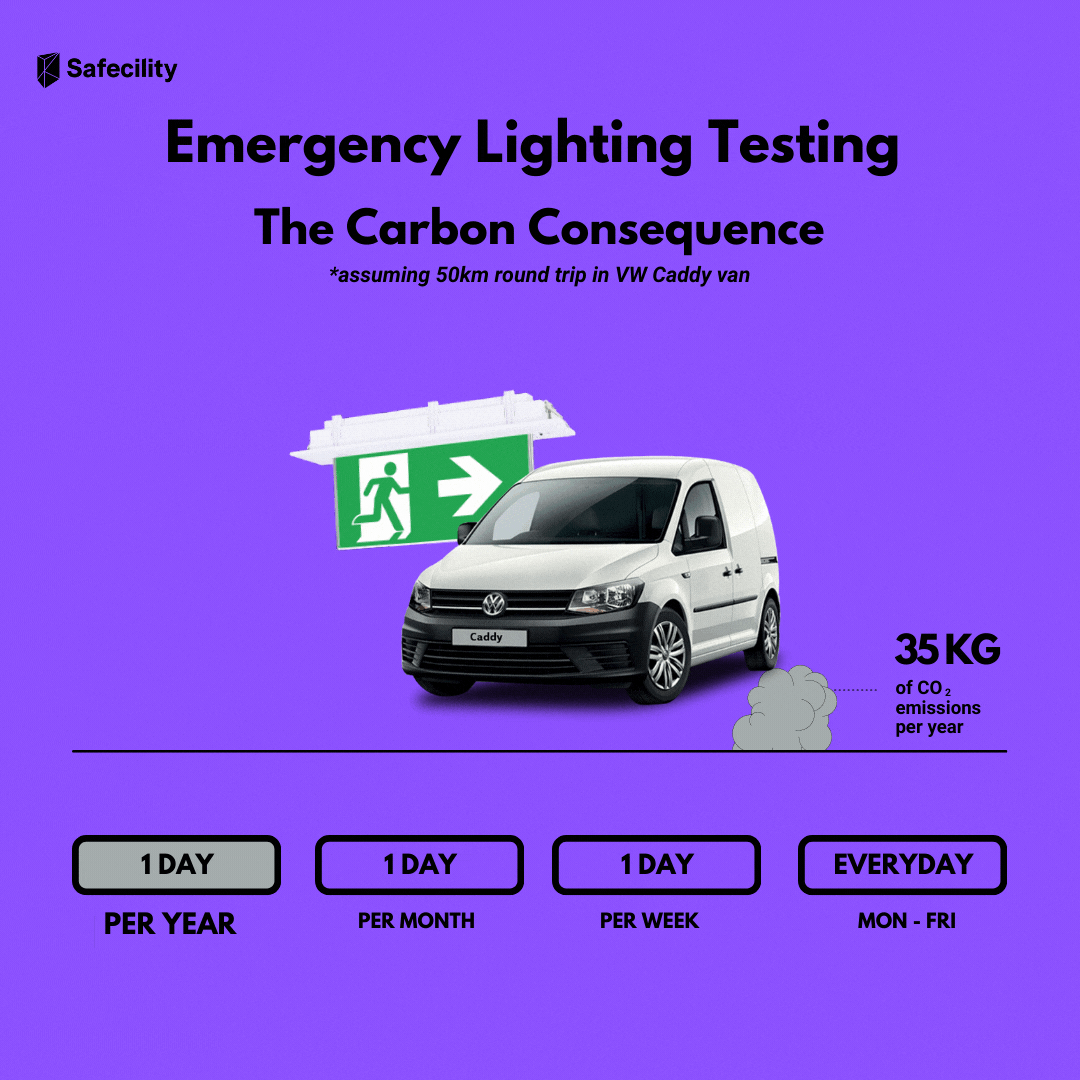 What's the payback period?
Our final statistic relates to payback on the original investment that enables automation. For Safecility® automated testing to work, a small sensor has to be installed into the emergency lighting. The typical payback period for the initial sensor investment is 18-20 months.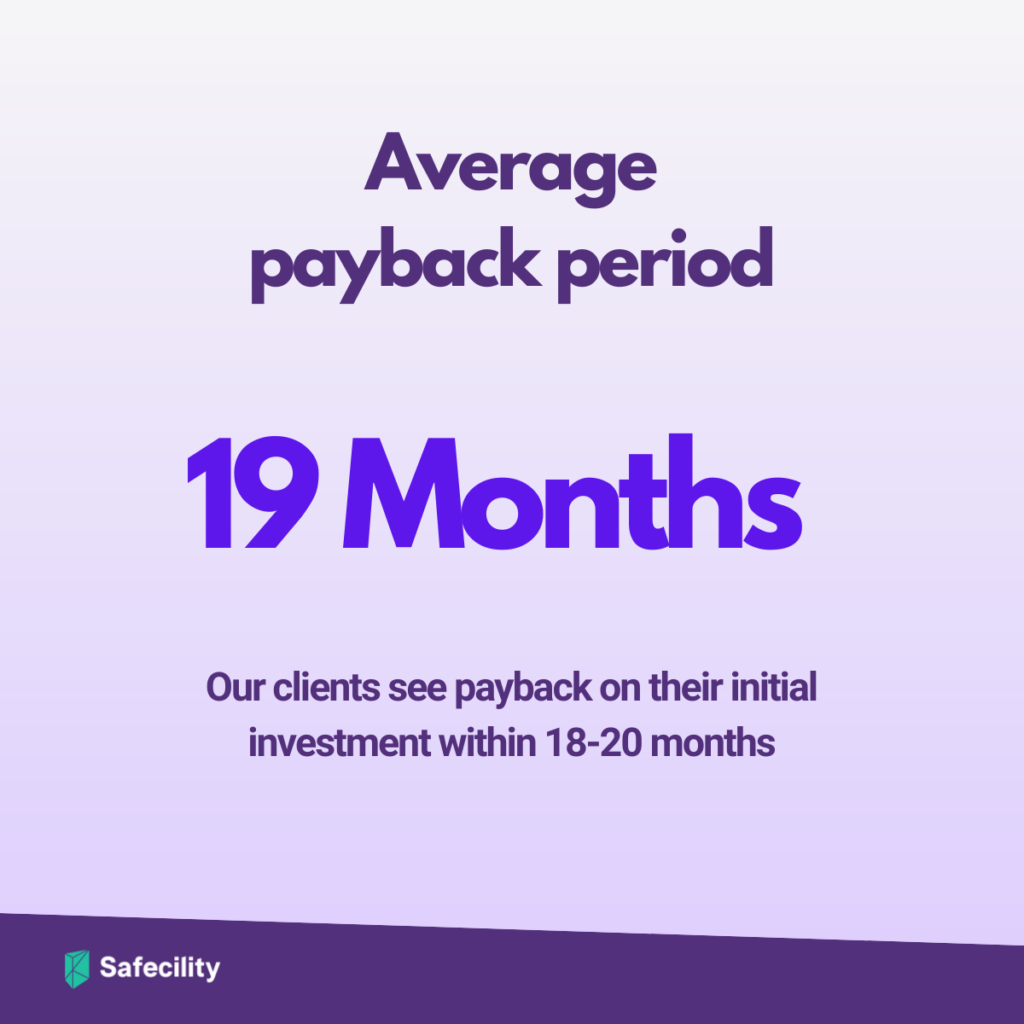 Considering switching to automation?
Chat to us today www.safecility.com/contact